H. Eric Hartman
Available Prints
Five art prints, signed and numbered by the artist, are now available for sale via PAYPAL. Please note that each print is a different standard size for ease and economy in framing. Allow 7-10 working days for shipping.
Art Prints
Mardi Gras Flambeaux – $30
One of the great traditions of Mardi Gras in New Orleans are the Flambeaux that have lit the way for Mardi Gras parades each night for over 100 years. These men proudly march and dance their way along the miles of each parade route and hope of getting an appreciative tip for their skills performed.
New Orleans Streetcar – $25
Nothing is more recognizable than a New Orleans streetcar. Its unique sounds filter through our surrounding neighborhoods and are part of the soundtrack of what it means to live here.
Boiled Blues – $25
A marvelous portrayal of one of New Orleans' great seafood delicacies, boiled blue crabs.
Relighting Mid-City – $30
This painting celebrates the return of a Mid-City Icon: Bud's Broiler.
2008 Bayou Boogaloo Poster –
Sold Out
Eric's 2008 Boogaloo Poster was a huge hit and received rave reviews!
It is now sold out!
---
Art Postcards
Six Cards for $10: a set of 2 each or 6 of one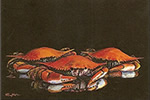 4" X 6"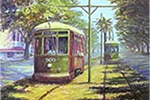 5" X 7"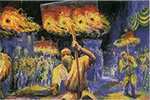 4" X 6"
It's easy to order. Simply write down the name and number of prints with a check plus $5 for shipping via mail by mailing a check payable to "H. Eric Hartman" to:
Art-Man Postcards
H. Eric Hartman
3700 Orleans Ave #5246
New Orleans, LA 70119
or call me @ (504) 390-8902
New Art Prints
Available Online
Purchase Art-Man Art Prints
Signed & Numbered